Een beveiligingssysteem is zo goed als het kan detecteren. Alles hangt af van het maken van de juiste keuze voor bewegingsdetectie. De nieuwe reeks bewegingsdetectoren van Texecom, Capture, is onze best presterende, meest betrouwbare en eenvoudigst te installeren reeks detectoren, ooit! Grade 2 bedrade plafondmelders bieden keuze uit quad PIR of dubbele technologie detectoren.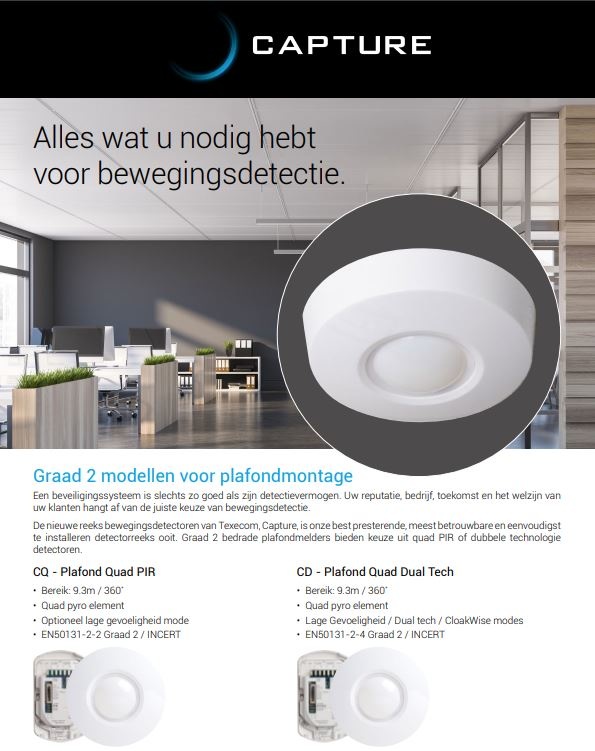 Detectiebereik 9,3m (openingshoek 360°)
Montagehoogte 2.4m – 3.6m
Voorzien van ingebouwde EOL weerstanden en Antimask
Voeding: 9 – 16Vdc, max 13mA
Lage Gevoeligheid / Dual tech / CloakWise modes
Identieke behuizing voor hele familie, dus detector modules onderling uitwisselbaar
EN Grade-3 en INCERT goedgekeurd
Betrouwbaarheid waarop u kunt vertrouwen
Texecom begrijpt dat betrouwbaarheid ten grondslag ligt aan de keuze van een inbraakalarmsysteem. De nieuwe reeks bewegingsdetectors van Texecom, Capture, is Texecom's best presterende, meest betrouwbare en eenvoudigst te installeren detectorreeks ooit.
Prestaties wanneer u deze het meest nodig hebt

Beveiliging moet niet aan het toeval worden overgelaten. Dankzij het innovatieve ontwerp en de modernste techniek leveren Capture-bewegingsdetectoren uitstekende prestaties.
Installatie in seconden

Ontdek waarom Capture de simpelste detectorreeks van Texecom is die u ooit zult installeren. 
Selecteer uw model
Zoek het juiste Capture-model voor uw toepassing. Kies uit wand- of plafondmontage, bedraad of draadloos, niveau 2 of 3 en een groot aantal technologieopties.